Who we are and what we do
Happy tails is a new and the first Czech brand on our market offering mermaid tails and monofins for children and adults. Happy tails monofins and tails are original Czech products. The highest quality materials with attests are used during their production. Our products have the health certificate.
Happy tails products are characterized by high quality and exceptional design inspired by nature from the undersea world.
Cooperation with experts
In Happy tails we put great emphasis on safety and quality of products, which are continually developed in cooperation with experts in the relevant field. We consult with them development and use of our products and thereby we ensure our customers safe and functional products supporting healthy development. We closely cooperate with Martin Zajac, instructor and competitor of the APNEAMAN international freediving team and representative instructor of the Czech Republic in freediving, with the support of MUDr. Jiří Dostál, member of American Society of Sports Medicine, devoting himself to functional diagnosis of athletes and physiology of loading
Use of Happy tails products
Mermaid tail and a monofin for children and adults are used for swimming in the mermaid style – a swimming discipline called dolphin kick. This new form of leisure time sports activity is not just a game, but it is also a significant benefit for healthy posture, development of musculoskeletal system and correct breathing. Swimming in the mermaid style is a good base for freediving.
We appreciate cooperation with the most entertaining Czech aquapark Aquapalace Praha, which became the first swimming pool friendly for swimming of mermaids in the Czech Republic. You can not only swim in Aquapalace, but you can also by a tails here. In the section sales places you will find places where you can go swimming and attend a swimming course in Czech Republic.
Why just mermaids and how it all began
Were you also fascinated by colourful undersea world of Fairy Ariel and their adventures when you were a little girl? Did you often imagine what a feeling it is to be a mermaid, to swim in the beautiful undersea world full of colours and to be like her? We in Happy tails did.
We put together a team of graphic designers, textile specialists, divers and production consultants. We had been testing competitor's products for more than one year, we had been developing and testing a monofin and number of materials for one more year.
Our motto was always to do things well, in high-quality, not only in nice design, but functional first of all. Happy tails monofins and tails are made in the Czech Republic and before they launch the market we ensure their quality control as well as control of used materials with designation "Czech product".
View of happy children – little mermaids making Dolphin kick in colourful tails under the water and thankful e-mails from you, parents, convince us that our intention and effort go in the right direction. It obliges us to further development, improvement of the Happy tails products, launching novelties and the best things we can offer.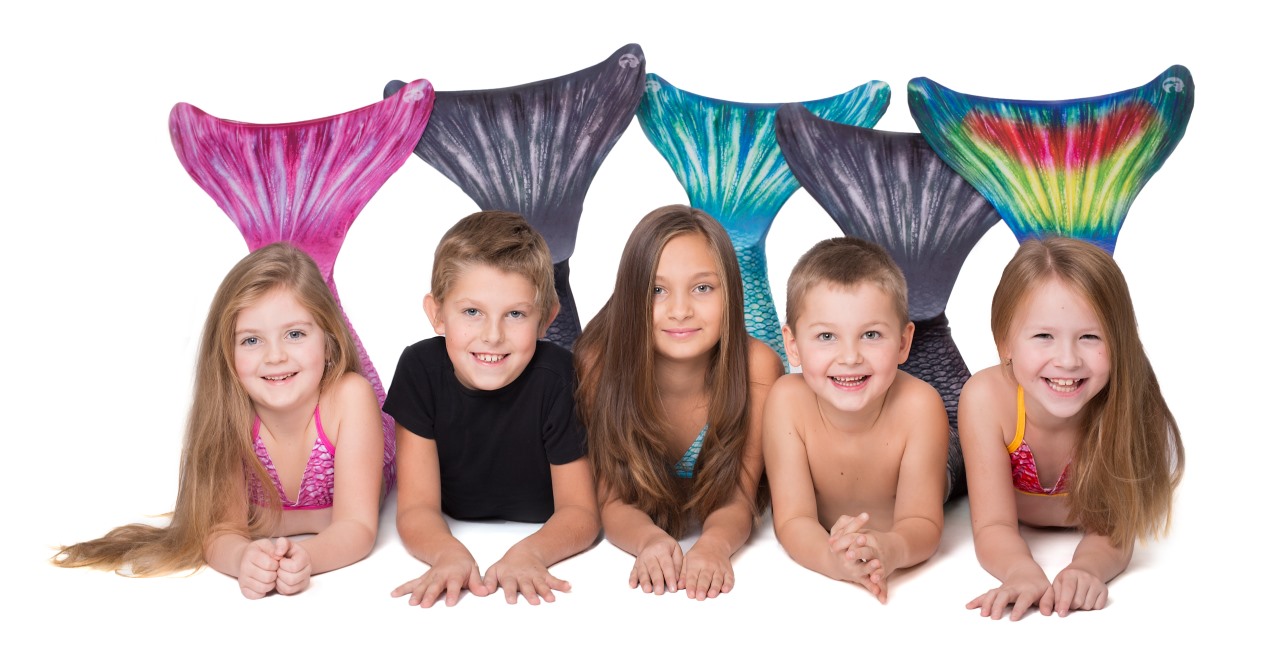 Enjoy lot of sport experiences with Happy tails products!
Happy tails mermaids s.r.o.